Still Suffering from Lower Back Pain

?
Mechanical chronic low back pain results from an injury or stress on the tissues surrounding the spine, including soft tissues, muscles, bones, and joints. Often times, this type of pain is due to impaired neuromuscular control and neural inhibition of the multifidus, which is the largest stabilizing muscle in your back.
Watch the video to learn more about neuromuscular control, proprioception, and various functions of your back muscles.
Do these symptoms sound familiar?
Do you have back pain, muscle spasm, or feeling instability often?
Do they seem to be getting worse this time?
Do you experience back pain or spasms when doing small tasks like brushing teeth over a sink, washing dishes, or reaching for an item?
If you stay in a position for an extended period (sitting, standing, driving, etc.) does your back become increasingly painful?
Do you have to shift positions or support yourself with your arms because of this pain?
Could your back pain be due to Multifidus Dysfunction?
Multifidus Dysfunction can result from a loss of neuromuscular control. This can cause a lack of spinal support, leading to uncontrolled loading of spinal joints and discs, resulting in mechanical low back pain. 
Watch the video to learn more about multifidus dysfunction and loss of neuromuscular control. 
Restaurative Behandlungen konzentrieren sich darauf, durch die Behebung der zugrunde liegenden Ursache die Körperfunktionen der Patienten zu verbessern.
Palliative
Behandlungen konzentrieren sich darauf, den Schmerz durch Rückenmarkstimulation, orale Medikamente, Injektionen oder Nervenverbrennungen zu hemmen.
Restorative vs.
Palliative
Eher an restaurative Behandlungen denken
ReActiv8 is the first and only restorative treatment option for mechanical chronic low back pain, multifidus dysfunction, neuromuscular control.
der neuronalen Signale,
die Ihren Multifidus-Muskel aktivieren
des Multifidus-Muskels
zwecks Stabilisierung der Wirbelsäule
der Wirbelsäule zwecks Schmerzreduzierung
ReActiv8 wird im Rahmen eines minimal-invasiven
stationären Eingriffs unter
der Haut platziert.
A generator is connected to two electrical leads, which are positioned to stimulate the nerves that control your multifidus muscle.
You control your twice-daily, 30-minute therapy sessions, which can feel like a deep tissue massage.
Langfristige klinische Ergebnisse
Besserungen hinsichtlich Schmerzen und Funktionsfähigkeit

8 von 10 Patienten berichteten über erhebliche Verbesserungen in Bezug auf Schmerzen und/oder Funktionsfähigkeit

7 von 10 Patienten verzichteten freiwillig auf die Einnahme von Opioiden oder nahmen weniger davon ein*
*Prozent der Patienten, die zu Beginn der Studie Opioide eingenommen hatten: (1. Jahr = 31/65), (2. Jahr = 34/57), (3. Jahr = 36/51).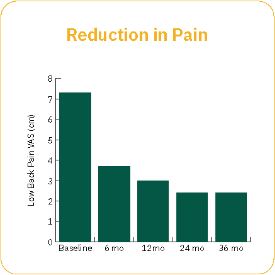 Klinische Studiendaten zeigen, dass bei den Patienten im Laufe der Zeit eine progressive, langfristige Verbesserung der Schmerzen und der Funktionsfähigkeit eintritt, sodass ein dauerhaftes, beständiges und restauratives Ergebnis zu verzeichnen ist.*
* Die Wirksamkeit der restaurativen Neurostimulation bei Patienten mit chronischen Kreuzschmerzen und Dysfunktion der Multifidus-Muskulatur hält drei Jahre lang an. Neuromodulation Journal. Sept. 2022. Gilligan et. al.
Ist ReActiv8 die richtige Therapie für mich?
Nehmen Sie an der Umfrage teil, um zu sehen, ob die Behandlung für Sie infrage kommt
Suchen Sie sich als erstes einen Arzt und finden Sie heraus, ob ReActiv8 das Richtige für Sie ist. Durch die Beantwortung der folgenden Fragen können wir Ihnen helfen herauszufinden, ob ReActiv8 das Richtige für Sie ist.
"*" zeigt erforderliche Felder an
Erfahrungsberichte von Patienten
Bei vielen Menschen, die mit ReActiv8 gegen ihre mechanischen, chronischen Rückenschmerzen behandelt wurden, ist eine erhebliche Verbesserung eingetreten und sie waren bereit, ihre Geschichten zu erzählen, um anderen Hoffnung zu geben
Geschichte von Damian (Teil 1)
Geschichte von Damian (Teil 2)
Geschichte von Damian (Teil 3)
Geschichte von Claudia
Patientin aus Deutschland
Geschichte von Nas
Patientin aus Großbritannien
Geschichte von Simone
Patientin aus Großbritannien
Sprechen Sie mit einem echten ReActiv8-Patienten
N

Ask personal questions from someone who has been through the ReActiv8 Journey

N

See what the therapy experience and process is really like

N

Get advice and tips for recovery
Learn more about the process
here
Besuchen Sie eine Veranstaltung zur Patientenaufklärung
Erfahren Sie aus der Sicht von Ärzten und Patienten mehr über mechanische chronische Rückenschmerzen, die Rolle des Multifidus-Muskels und die klinischen Ergebnisse der restaurativen Neurostimulationstherapie.
Unterstützungs- und Kontrollprogramm ReActiv8
Our dedicated patient access specialists will work with you, your physician, and your health insurance company in an effort to obtain authorization for the therapy.