Lider du av ländryggssmärta?
Mechanical chronic low back pain results from an injury or stress on the tissues surrounding the spine, including soft tissues, muscles, bones, and joints. Often times, this type of pain is due to impaired neuromuscular control and neural inhibition of the multifidus, which is the largest stabilizing muscle in your back.
Watch the video to learn more about neuromuscular control, proprioception, and various functions of your back muscles.
Do these symptoms sound familiar?
Do you have back pain, muscle spasm, or feeling instability often?
Do they seem to be getting worse this time?
Do you experience back pain or spasms when doing small tasks like brushing teeth over a sink, washing dishes, or reaching for an item?
If you stay in a position for an extended period (sitting, standing, driving, etc.) does your back become increasingly painful?
Do you have to shift positions or support yourself with your arms because of this pain?
Could your back pain be due to Multifidus Dysfunction?
Multifidus Dysfunction can result from a loss of neuromuscular control. This can cause a lack of spinal support, leading to uncontrolled loading of spinal joints and discs, resulting in mechanical low back pain. 
Watch the video to learn more about multifidus dysfunction and loss of neuromuscular control. 
Restorativa behandlingar fokuserar på att förbättra funktionen för patienter genom att ta itu med den underliggande orsaken.
Palliativa
behandlingar fokuserar på att blockera smärta genom ryggmärgsstimulering, oral medicinering, injektioner eller bränna nerver.
ReActiv8 is the first and only FDA-approved restorative treatment option for mechanical chronic low back pain, multifidus dysfunction, neuromuscular control.
Av neurala signaler som aktiverar
din multifidusmuskel
Av multifidusmuskeln för att
ge stabilitet till ryggraden
Av ryggraden för att minska smärta
ReActiv8 implanteras under
huden under ett minimalt invasivt
polikliniskt ingrepp.
A generator is connected to two electrical leads, which are positioned to stimulate the nerves that control your multifidus muscle.
You control your twice-daily, 30-minute therapy sessions, which can feel like a deep tissue massage.
Långsiktiga kliniska resultat
Smärta och funktionsförbättringar

8 av 10 patienter rapporterade betydande förbättringar i smärta och/eller funktion

7 av 10 patienter eliminerade eller minskade sitt opioidintag frivilligt*
*Procentandel av patienter som tog opioder vid baslinje: (1-år= 31/65), (2-år= 34/57), (3-år= 36/51).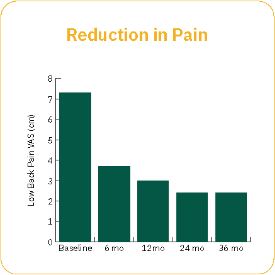 Data från kliniska studier visar att patienter upplever progressiva långsiktiga förbättringar av smärta och funktion över tid, vilket visar ett hållbart, konsekvent och restorativt resultat.*
* Three-Year Durability of Restorative Neurostimulation Effectiveness in Patients with Chronic Low Back Pain and Multifidus Muscle Dysfunction. Neuromodulation Journal. Sept. 2022. Gilligan et. al.
Är ReActiv8 rätt för mig?
Slutför denna undersökning för att se om det är något för dig
Ta det första steget mot att hitta en läkare och avgöra om ReActiv8 är rätt för dig. Genom att svara på följande frågor kan vi ge dig allmän vägledning om huruvida du skulle kunna vara en kandidat för ReActiv8.
"*" anger obligatoriska fält
Uppbackad av riktiga patienter med verkliga resultat
Många personer som fick behandling för sin kroniska ländryggssmärta med ReActiv8 har upplevt en dramatisk förbättring och ville gärna dela med sig av sina berättelser för att ger hopp åt andra patienter
Damians berättelse (del 1)
Damians berättelse (del 2)
Damians berättelse (del 3)
Prata med en verklig ReActiv8-patient
N

Ask personal questions from someone who has been through the ReActiv8 Journey

N

See what the therapy experience and process is really like

N

Get advice and tips for recovery
Learn more about the process
here
Delta i ett patientutbildningsevenemang
Hör läkares och patienters perspektiv på mekanisk kronisk ländryggssmärta, multifidusmuskelns roll och de kliniska resultaten av restorativ neurostimuleringsterapi.
ReActiv8 Support- och verifieringsprogram
Our dedicated patient access specialists will work with you, your physician, and your health insurance company in an effort to obtain authorization for the therapy.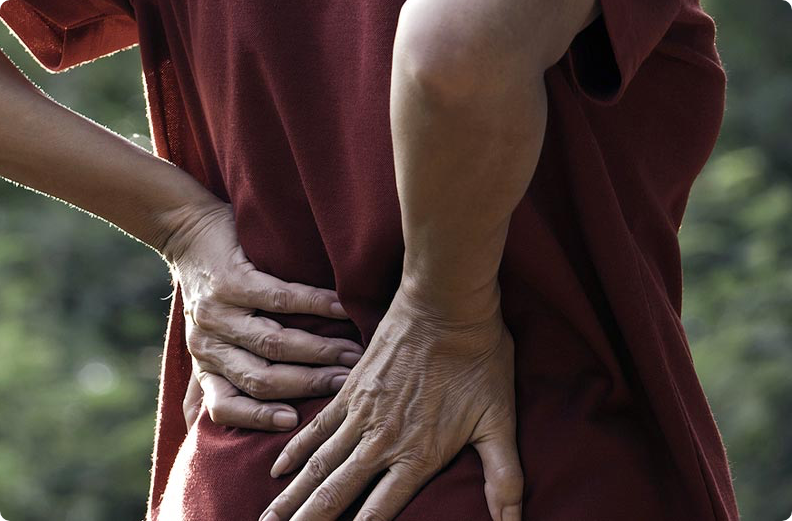 Review NICE guidance about neurostimulation of lumbar muscles for refractory non-specific chronic low back pain